Greetings from Boley Books,
For those that are new to the Boley Books Family, I would like to take a moment to introduce myself . . .

I'm Kami Boley—the featured author and creative director behind boleybooks.com. If you would like to learn more about me and my projects, please visit our website. I'd love to hear from you!
If you had the opportunity to read my first novel I am pleased to inform you that The Gator Leaves Nothing Behind Part II is on the way and it is going to be phenomenal! Barring any unforeseen mishaps, we plan to have this new book out in September . . . stay tuned for updates.
Today, I am excited to introduce one of my favorite people in the literary world. Katie is a unique and valued member of my book family—the links to her work proudly displayed on my resource page. Her trailblazing and tutelage gave me the inspiration to become a self-published author.
Now, without further ado, meet talented author and author mentor…K.M. Weiland.
K.M. Weiland lives in make-believe worlds, talks to imaginary friends, and survives primarily on chocolate truffles and espresso. She is the IPPY, NIEA, and Lyra Award-winning and internationally published author of Outlining Your Novel, Structuring Your Novel, and Creating Character Arcs. She writes historical and speculative fiction from her home in western Nebraska and mentors authors on her award-winning website Helping Writers Become Authors.
If you couldn't guess already, I am a huge Katie fan and I know from experience how busy a writer's life can be. Can you guess how delighted I was when she agreed to answer a few questions for me and my followers? If you have seen the video of me receiving the first proof copy of my novel The Gator Leaves Nothing Behind Part I . . . then I'm sure you get the picture.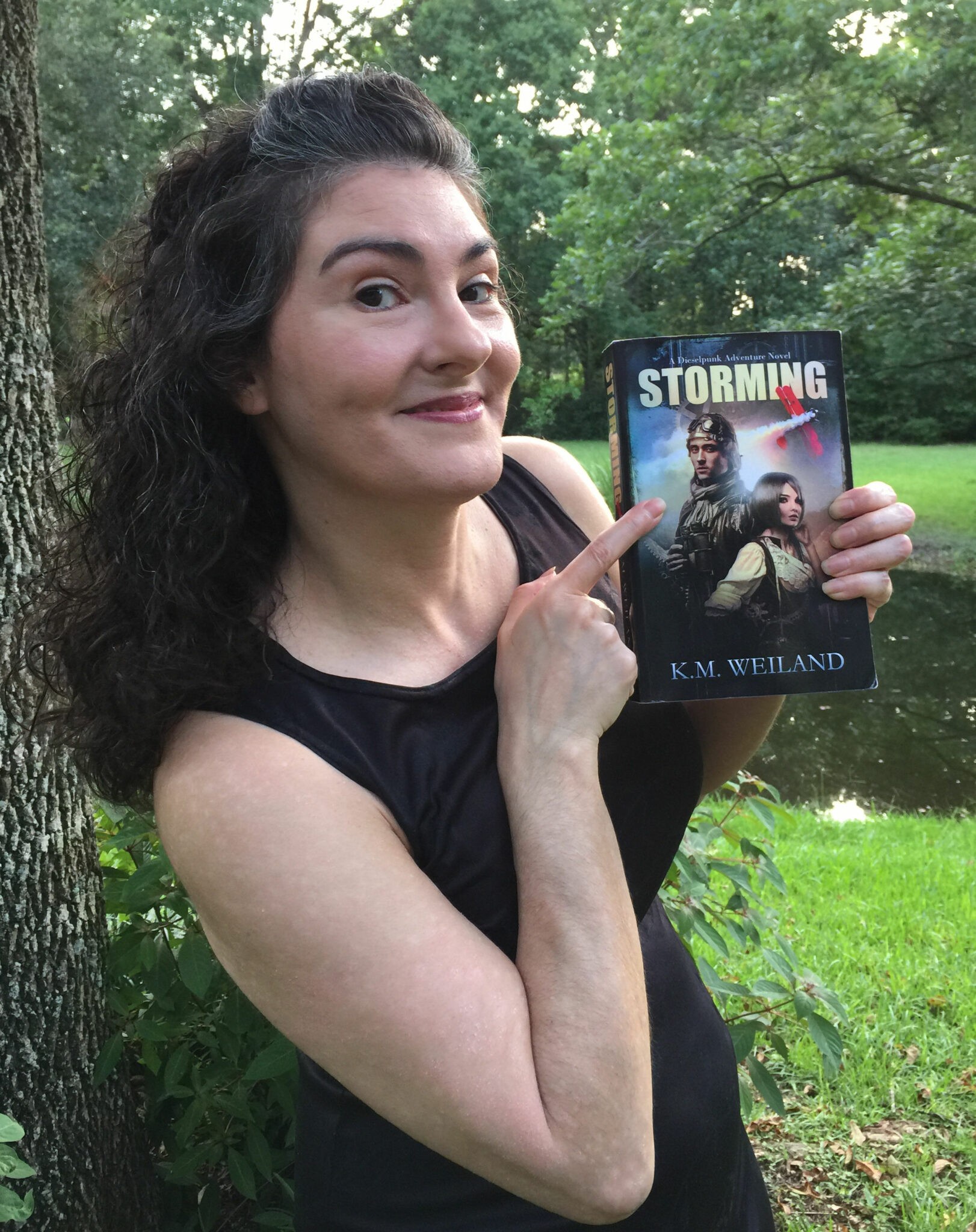 I asked and Katie answered
1. How many books have you written and what are their titles?
Four novels (A Man Called Outlaw, Behold the Dawn, Dreamlander, and Storming) and eight non-fiction (Outlining Your Novel, Outlining Your Novel Workbook, Structuring Your Novel, Structuring Your Novel Workbook, Creating Character Arcs, Conquering Writer's Block and Summoning Inspiration, 5 Secrets of Story Structure, and Jane Eyre: The Writer's Digest Annotated Classic).
2. What is your favorite childhood book?
I read Anne of Green Gables, Little Women, and The Black Stallion over and over and over again.
3. Tell us about a pivotal book you read as a teenager?
Sci-fi writer Timothy Zahn was one of my early idols. I loved his Thrawn trilogy.
4. What is your writing kryptonite?
Pantsing. If I don't have an outline, I don't have fun and I just end up creating a big fat mess for myself.
(For those that didn't know I am a true pantser right now, but I want to grow up to be an organized outliner like Katie.)
5. What is the best money you ever spent as a writer?
$40 for the word processor Scrivener. It's the single best digital writing tool I've ever encountered. It makes all that outlining and organizing so much easier!
6. Do you hide secrets in your books that only a few people will find?
Oh, here and there. For example, in the historical novel I'm working on right now, I wanted to do a mini-ode to Charles Dickens by including littler-known names from his books wherever I could.
7. What activities do you enjoy when you're not writing?
Right now, I'm having lots of fun with a redecorating project that lets me explore my interest in interior design.
8. What was your last project?
My latest novel Storming came out a year and a half ago. It's a historical with a touch of dieselpunk, set in 1920 Nebraska, about a barnstorming biplane pilot.
9. What is your next project?
I'm currently in the throes of editing my next novel, a historical superhero story set in Georgian London (hence, the Charles Dickens tie-in). I'm also working on several new writing how-to books, including a workbook on character arcs, which I've been getting lots of requests for.
10. How can readers connect with you?
I've built my platform primarily around my site HelpingWritersBecomeAuthors, where I post bi-weekly. I also consistently use social media (especially Facebook and Twitter) as well as an email list.
I want to thank you guys for joining us for this quick and fun interview. I plan to bring exclusive deals, fun facts, and interesting literary news to you on a more regular basis this next year.
As K.M. Weiland and I are Independent Authors, we depend heavily on social media, our email subscribers, and reviews to let the world know about our offerings . . . If you enjoy a writer's blog and or books, please share and help spread the love to others. Please let either of us know if you have any questions or feedback in the comments below. Thanks for Reading!
P.S.—I have been hard at work on my books and writing great blog posts to expand the content on the website, gathering juicy morsels for both readers and writers. The Gator Leaves Nothing Behind Part II is due out in September. I will be giving updates (and some sneak peeks) as we go along, so check your inbox (or join the email list) soon for all the details of the super cool stuff I have planned for you guys…it will be so much fun!
Happy Reading and Writing,
Kami M. Boley
Save
Save
Save
Save
Save
Save
Save
Save
Save
Save
Save
Save
Save
Save