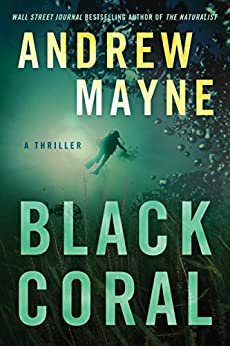 To comprehend how much fun I had reading Black Coral you must know these three things about me . . . I am a scuba diving enthusiast, I have recently moved to Florida, and I am not a delicate flower.
You never know what you'll find below the surface . . . this thriller follows Sloan McPherson (a spunky female detective with the local Underwater Investigative Unit) into the murky waters of the Everglades where she discovers evidence beyond the current investigation. This find by Sloan along with the UIU attracts press and triggers the reopening of a cold case file from 1989.
We follow Sloan as she uncovers each clue, follows each hunch, and navigates tricky waters . . . at work, at home, and literally . . . all to protect her family and her community from a major creeper on the loose.
This book isn't stuffy, not like the typical overly polished crime dramas I've been encountering lately. I love that this book captured a candid and snarky realness that kept the pages turning.
I was given an ARC by NetGalley in exchange for an honest review.
This is book #2 in a series, but I enjoyed it as a stand-alone without having read the first one. I plan to seek out The Girl Beneath The Sea and other titles by Andrew Mayne.
Have you read this or other titles by Andrew Mayne? Let's chat! 😉