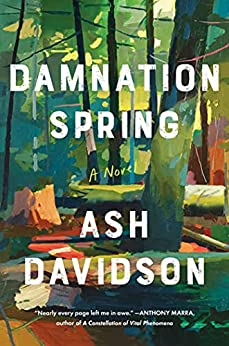 Atmospheric and compelling! Damnation Spring is told in a plain, rugged fashion that mirrors the struggling inhabitants of this California logging community and has me longing to visit the ancient greenery of the Pacific Northwest.
Oh, Ash Davidson . . . you're killin' me, Smalls! This novel is as real as fiction gets folks. Get ready to be hit with a full array of emotions. I mean ALL the feels. It even has a few annoying repetitive human quirks, such is life, the goings-on in the routine of a small family attempting to carve out a full and meaningful life in between the mighty trees.
Unlike some other reviewers, I did not mind the use of local timber industry terminology and slang, I like being immersed in a way of life that is foreign to me, to walk in another's shoes and get a strong understanding of their plight.
I could definitely feel the frustrations of these people who were caught making super hard choices . . . keep your job? Save your community? preserve your heritage? protect the land and the people you love? feed your family? build a future? All separate, yet all intertwined like the massive root systems of the majestic Redwood trees standing so very high above them.
I'd like to thank the author, NetGalley, and Scribner for allowing me to read a copy of Damnation Spring for an honest review. 5 stars.