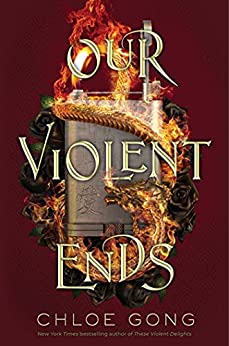 This setting and overall concept are stellar, the cover artwork is alluring . . . sadly, the resulting storyline lands firmly in the okay category for me.
I had immediately added this title to my wish list and was already drooling over the prospect of devouring this duology . . . I had high expectations. I gladly purchased and read These Violent Delights just before starting Our Violent Ends to give the best results, having no lag time between the two books.
I wanted so much to fall in love with Romeo and Juliette reimagined in Shanghai circa 1920s. Some elements for a good rendition were present, but they quickly got lost and the excitement fizzled early on. I struggled to finish.
In order to thoroughly enjoy this novel, you must be a fan of highly dysfunctional relationships, deceitful gang-land politics, the constant warring of egos, senseless violence, and repetition. There were bright spots where the story felt clever and exciting . . . unfortunately they were few and far between. I was unable to find a main character to root for, instead finding myself hoping that this poor city could rid itself of all these horrible parasites (both human and insect).
I'd like to thank NetGalley and Simon & Schuster for an advanced copy of Our Violent Ends for my unbiased evaluation. 3 stars